Inder & Uma Batra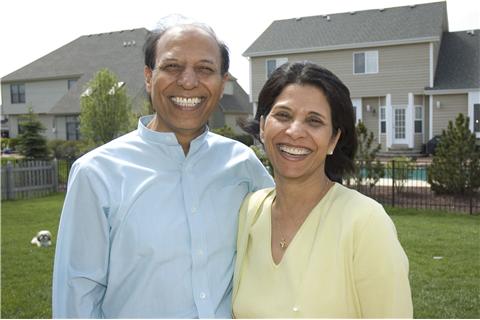 On September 25, 2007, the UIC community gathered with the Batra family to remember our dear friends Inder and Uma Batra, hosted in conjunction with the College of Liberal Arts and Sciences. Professor Batra served as the head of the Physics Department at UIC from 1998-2004. He believed strongly in the crucial role of science in society. He donated his personal funds to start the Inder P. Batra Physics Undergraduate Award to be awarded each semester to undergraduate physics students based on performance and aptitude. Through the generosity of family, friends, and colleagues, this award, now renamed the Inder P. and Uma Batra Memorial Physics Undergraduate Award, will continue to make a great difference in many students' lives. You may make your contribution in their memory through the Department of Physics donation page on the LAS website.
Inder Paul Batra was born in 1942 in Mighiana, Punjab, in pre-partition India. His two brothers, Surinder and Arjun, and his two sisters, Sudesh and Nirmal, remember Inder as a creative storyteller who was always making everyone smile. The family faced some hardships early on due to the family's displacement after Partition and the untimely death of his father. But hardships only serve to strengthen family bonds, and so even as fate started to chart a different course for each sibling, their love for each other grew. In 1965, Inder became the first in his family to travel to the West. After finishing his M.S. in Physics at Delhi University, he went to the University of British Columbia for his doctoral degree, which he completed at Simon Fraser University. He landed a position as a physicist at IBM Research Labs and joined the company in 1969.
Uma Batra was born as Uma Leekha in 1949 in Nangal, Punjab, India. She was one of five children, and the youngest of three daughters. Uma earned her Bachelor's degree from Lady Irwin College, Delhi, and would later earn a second Bachelor's degree from San Jose State University. Her siblings remember how much she, more than anyone else, loved being in a classroom. They also remember the many times when they were all sitting together chatting and Uma would say something to make everyone laugh. That was her special ability, as a child and as an adult: to make a large impact by saying just a few simple words.
On October 2, 1970, Inder and Uma were married in New Delhi, India, and one week later they were on a plane to the U.S. For most of the next 37 years, San Jose, California would be their home. Although Inder spent most of his working life (almost 30 years) at IBM, he found his true calling when he joined the faculty as head of the Physics department at the University of Illinois at Chicago. Over these two careers, Inder wrote over 200 technical papers and associated closely with many brilliant minds, including multiple Nobel laureates. But life at UIC was a dream come true, because in addition to making a scientific contribution, he could make an impact on young, aspiring physicists. He often talked at home about his hope that he could inspire his students to be less concerned about their grades and instead engage in what he saw—the miracle of physics and its real world applications. One of his favorite experiences was exposing the inherent conflict between the theory of relativity and quantum mechanics via a one-act play in which Albert Einstein is put on trial for running a red light. In its review of the opening night performance, the UIC daily newspaper commented on Inder's creative approach to education: "Hopefully, with inspiration from Professor Batra, other teachers will follow this road to academic success."
Uma's life in the U.S. was just as lively. She became a registered dietician and practiced for almost 30 years. During many of these years, she gave freely of her time and her expertise as a volunteer. Working with patients for so many years also contributed to the gentleness she brought to all of her relationships. Inder may have been the one to break the ice with a joke when first meeting someone new, but it was Uma's charm and warmth that cemented the long-lasting relationships the two of them created with so many people.
Inder and Uma had committed their lives to one another, but they lived for their children. Words cannot do justice to the depth of their relationship with their daughters, Puja and Mala. They recognized the importance of Puja and Mala growing to become strong, independent, successful women who could guide their own destinies, and instilled in both of them a love for education and a commitment to service.  Puja graduated from Harvard Law School in 1999 and Mala graduated from Harvard Business School in 2007. These were two of Inder and Uma's proudest moments.
Inder and Uma worked hard their whole lives, but there was still plenty of time for play. Inder and Uma loved tennis, skiing, exercise, and playing as much bridge as possible. Their friends remember them as the most welcoming, warm, generous, and kind people they ever met. Many friends who moved from India recall how Inder and Uma were the first couple to welcome them to the U.S. When you think of Inder and Uma, probably the word that comes most quickly to mind is "partners." And these two were partners—in everything. This partnership was further cemented after Inder and Uma moved to Chicago and started to spend every free moment together—walking together in parks, going to the theater, enjoying outdoor concerts, and traveling.
And now, through this Award, Inder and Uma's belief in the transformative power of education, their commitment to UIC students, and their love for the city of Chicago will live on.