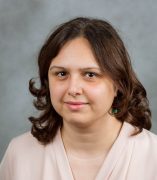 Fatemeh Khalili-Araghi, PhD
Associate Professor
Physics
Contact
Building & Room:
2146 SES
Address:
845 West Taylor St.
Office Phone:
Email:
Related Sites:
About
Dr. Khalili-Araghi specializes in theoretical and computational studies of ion channels. She obtained her B.S. in Physics from Sharif University of Technology in 2001, and her PhD from University of Illinois at Urbana-Champaign in 2010. She has been a postdoctoral scholar at the University of Chicago from 2010 to 2013, where she has continued studies of membrane proteins with a focus on the NaK ATPase using computational modeling techniques, as well as molecular dynamics simulations. Her research at UIC will continue on theoretical and computational studies of membrane proteins.
Selected Publications
"Molecular determination of claudin-15 organization and channel selectivity", Journal of General Physiology, 150:949-968 (2018).
"A lithium-oxygen battery with a long cycle life in a realistic air atmosphere", Nature, 555:502-506 (2018).
"Bimodal phonon scattering in graphene grain boundaries", Nano Letters, 15:4532:4540 (2015).
"An emerging consensus on voltage-dependent gating from computational modeling and molecular dynamics simulations", Journal of General Physiology, 140:587:594 (2012).
"Calculation of the gating charge for the Kv1.2 voltage-activated potassium channel", Biophysical Journal, 98:2189:2198 (2010).
Education
BS, Physics (2001), Sharif University of Technology, Tehran, Iran
PhD, Physics (2010), University of Illinois at Urbana-Champaign